Some things about asbestos are common knowledge. Most people know that it poses an extreme risk to our health. But, did you know that despite all that we know about the dangers of asbestos, builders and manufacturers still use it in building materials to this day? So long as they limit asbestos to no more than 1% of the materials, your home or business might very well be harbouring the toxin within.
Luckily, asbestos is only a problem when someone inhales or ingests it. This means, so long as there is no damage to the materials containing it, there is no threat to the people living or working there. Recently, a client wanted to put an addition onto their home and to do so meant doing demolition work in their attic. Unfortunately for them, the insulation there contained asbestos, and they needed it contained and removed. So, they called us in to help them out.
Asbestos Abatement and Removal
The clients are a young family on the cusp of growing again. With a baby on the way, they needed assurance we would do the job correctly. They were still living in the house but temporarily migrated down to the basement so they could go about their lives unobstructed by the toxins in their attic. We came in and immediately contained and isolated the asbestos in the upper level to assure the family's safety. We then got to work on the removal process.
Asbestos actually comes in several different forms, each of which is used for its unique traits in construction. In this instance, the insulation contained vermiculite. This material is a yellow or brown mineral often used for insulation in buildings because it is a moisture-retentive medium. Interestingly, vermiculite is not inherently toxic and can even be beneficial for plant growth. However, much of the mineral mined in the 20th century for construction purposes contain asbestos, which is, unfortunately, the circumstance we were working with here. We discovered traces of the mineral extending down into cavities around the chimney.
Our team had set up stringent containment measures with negative air. This means the air pressure within the containment area is lower than that of the outside area. This results in no asbestos escaping whenever one of our technicians enters or leaves. Operating in the attic was a challenge. There was not a lot of room, and it was sweltering hot. The heat was only made worse because our crew was wearing full protective gear the whole time. It was tight in the attic with not a lot of room to move. We took our time and got into all of the necessary areas to remove every trace of asbestos insulation. Our removal crews did amazing work on this job.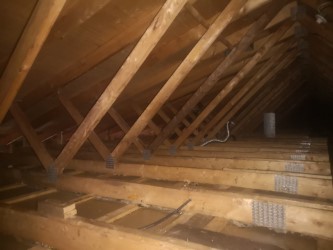 Call PuroClean of North Simcoe and Muskoka for Biohazard Cleanup Services
PuroClean is here for you if your property ever requires a biohazard cleanup. Whether it be asbestos, hoarding, bodily fluids, or worse, we can remedy the situation. We'll mitigate the loss to prevent further damage and then provide restoration services to return the property to pre-loss condition. Contact us at (705) 710-0606.
August 16, 2021